Round 12: A Day With The Mayor Of Kiev – WBC Emeritus Champion Vitali Klitschko
By Mauricio Sulaiman
WBC President – Jose Sulaiman's son
The WBC 56th Annual convention will take place in Kiev, capital city of Ukraine from September 30 through October 5 of this year. I traveled to meet with the local organization committee and to officially present the convention to the media.
The last time I was in this beautiful city was in 2004 when the WBC Board of Governors held a special meeting which is of high significance for the history of our organization, it was then when a terrible legal injustice was finalized and settled and the WBC became stronger than ever.
Kiev will host the "Champions League " final at the end of the month and there is tremendous enthusiasm all over the city. I visited the "Klitschko museum " which is located precisely outside the National Sports Complex "Olimpiysky" and it's a must see attraction for those visiting. A great video is shown to then proceed to the exhibition halls where incredible memorabilia of both Klitschko brothers is displayed. After a delicious early dinner I went back to the hotel to get ready for next day as I was meeting the mayor of the city, our pride , 3 time WBC Heavyweight champion, Vitali Klitschko.
We arrived in his office, I was intrigued as I had only seen Vitali in boxing related events and conventions. Entered through a private elevator, a door opened and there he was, as tall as ever, dressed in an elegant suit and with his charismatic genuine smile. We presented the WBC Convention to the press and then conducted individual interviews.
Vitali then took the time to go to lunch where we discussed all specifics about the convention. He is welcoming with open arms his dear friends from boxing and is exited to receive in his city the many legendary champions who usually attend the annual gathering.
As we finished, he asked me to join him in a site inspection of some remodeling that is taking place near the restaurant, we started walking as the rain started to pour down, we shared an umbrella but certainly got swamped as we moved along the road. I was thrilled to see the reaction of people looking at " Mayor Klitschko " walking in the street, in the rain and without security. Everybody said hello with a big smile. The construction work is to rebuild a famous wooden, staircase which unites the old and the new city , and is now being replaced with concrete structure for longevity. There he went down to check everything out in the rain while I waited with my umbrella.
As we were ready to leave and rain had stopped, Vitaliy gently asked me if I didn't mind if his driver took me back the hotel as he needed to go back to his office, I was humbled of course. To my surprise, next thing I see is Mayor Klitschko getting in a bike to ride back to his office! I inquired and it is very common to see him riding his bike to work.
He came back to get me to have dinner. So we drove to a nice quiet place where we sat alone and talked for a long time, I was there with my friend. A champion who was very close to my dear father Don Jose, one who was present at all WBC Conventions and special ceremonies. I have great memories from times spent in Cancun, Thailand, Moscow, Manila and many other places but this dinner was different and I listed with attention the so many stories he shared with me and I like to share with you.
Vitali was young, was watching tv with his friends and saw Mike Tyson become the youngest heavyweight champion of the world, in those years there was no professional boxing in Ukraine, and he told his friends…. " One day I am going to become champion of the world and have that green belt wrapped around me" all his friends laughed and made fun of him …..
Vitali was like father and mother to Wladimir, his parents had to work so he was in charge of his little brother. They have always been extremely close and have been there for one another. Wladimir lost his title by dramatic KO to Corrie Sanders . Vitali faced Sanders for the WBC green belt when Lennox Lewis retired. Sanders hit him so hard in the second round that he was out , but the thought of avenging Wladimir's defeat kept him in the fight and eventually knocked out Sanders to capture his dream.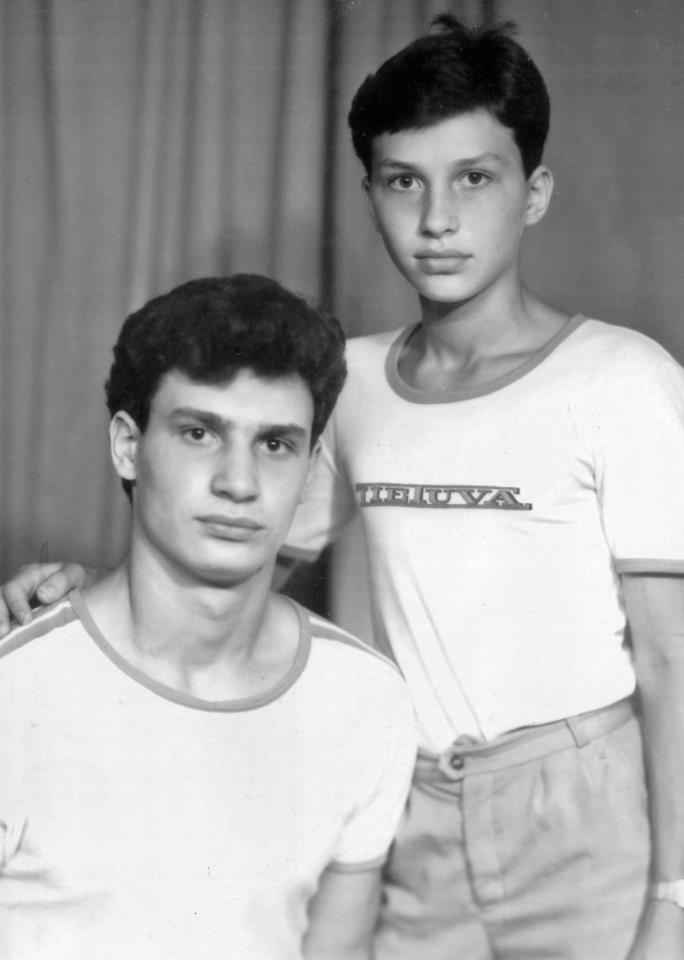 Vitali trains every single day , it is the only time he has for himself and it is where he finds the strength to go out and lead one of the most important cities in Europe. He even jokes that he is still thinking about using his Emeritus Champion status to comeback and fight for the title. He truly regrets not having time to enjoy the sport that he loves. The last fight he watched on tv was the great battle between Usyk and Breidis for the cruiserweight championship.
Kiev will be the capital of boxing during 2018, a tremendous year for Ukraine, Usyk conquered the WBC world title , Oleksandr Gvozdyk conquered the WBC interim light heavyweight title, Lomachenko won the highly regarded fight vs Jorge Linares, Wladimir Klitschko received the award by the Boxing Writers Association of America and Vitali Klitschko is inducted into the International Boxing Hall of fame in Canastota.
This upcoming convention will certainly be one to remember.
Thank you and I welcome any comments, ideas or recommendations at contact@wbcboxing.com