Going out on your shield risks death
By James Blears
Becoming a World Boxing Champion demands a lifetime of lifestyle commitment shedding blood, sweat and tears, fueled by a  tremendous talent and a will or iron, because it`s about winning.
Starting as a child with the big pillow like gloves, adding up hours, days, weeks, months and years of training and coaching, come rain or shine.  The amateur fights and then progressing to championships and if there`s real talent apparent, the national team and on to the Olympics, where a brilliant handful of fighters are talented scouted for a professional career.
Is it any wonder that so many fighters have said and will continue to say: "I`d rather die than lose.  Or, I didn`t want it stopped. I`d rather have gone out on my shield!"
Any reporter worth his or her salt won`t mention this in a story, especially before the fight, because it`s cruelly tempting fate.  Boxing can make a fortune, but on the other side of the coin, it can adversely change a life forever or even end it.  Years ago deaths in the ring happened callously often.  Nowadays they are rare, and that`s because of extra vigilance, more skilled referees, ringside doctors and ringside officials, but above everything, the compassion of the seconds in the corner.  When their fighter is taking a beating and isn`t fighting back, it`s up to them to throw in the towel and save their friend!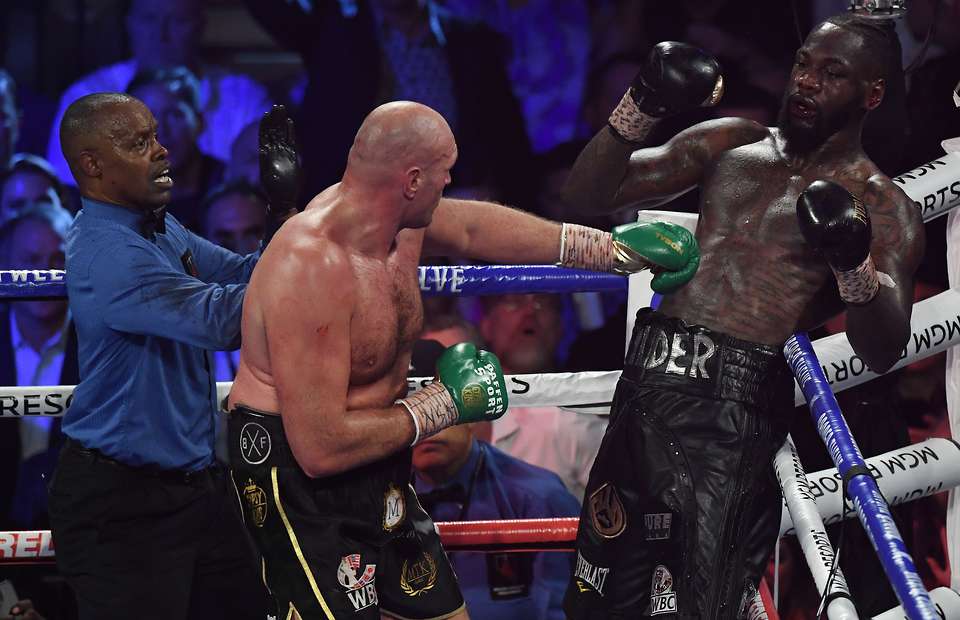 Recently, Mark Breland,  who`s the Assistant Coach of Deontay Wilder threw in the towel and the February 22nd fight against Tyson Fury was stopped in the seventh round.  Deontay who`d been knocked down twice,  said he would have preferred to have gone out on his shield.  Mark who was a five times New York Golden Gloves champion, a gold medal winner in the 1984 Olympics and welterweight champion of the world, begged to differ, knowing full well the risk of dire consequences.
One punch too early, rather than one punch too late.  Deontay is the father of eight young children! He`s still a young man with most of his life still ahead of him.  There`s no disgrace in losing, rather in not trying. He did his best, but it wasn`t his night. Sometimes it's the manner in which you fight which is even more impressively memorable than winning or losing.  Those who are saved, live to fight another day!
Deontay`s Head Coach Jay Deas didn`t take the lead in ending the fight, partly due to Deontay`s specific instructions prior to the opening bell.  In his professional life, Jay changed has jobs.  He was a television crime reporter, specializing in homicides, before he successfully turned his hand to boxing coaching.  Yet let me say that in a crisis, which demands split second decision making, I`d go with the one career one lifetime expert each and every time!
The consequences of going out on your shield can be seen with what happened to Gerald McClelland. Suffering serious brain damage against Nigel Benn in their February 1995 fight, Gerald emerged from surgery and an induced coma, but has never been the same since.  He`s blind, has lost eighty percent of his hearing and has short term memory loss.  It`s typical of the man and his tremendous bravery, that he`s refused to be defeated.  He`s managed to get up from his wheelchair and is courageously walking with a cane.   His sisters, especially Lisa are constantly by his side, caring for him day and night. This is pure and true love.
Sometimes,  there are warning signs beforehand, which we should have picked up, but we didn`t,   and that`s why it`s so vitally important for coaches, training teams and the fighters themselves, to be honest and report accidents and injuries, which often occur in the gym, far away from the glare of public scrutiny, or even far from the madding crowd. Alternative evasiveness is foolhardy.
Months before this happened, Gerald had to stop sparring because he was constantly blinking.  It re-occurred in the fight against Nigel Benn.   Gerald KO`d mighty puncher Julian Jackson, but might have collected some damage along the way.   And as the fight against Benn wore on, Gerald was almost pushing out his mouth guard.  All of this, wasn`t understood and acted upon, before it was too late.  We can learn from this. We must learn from this.
Prior to his fight against Jimmy Doyle in 1947, the great and peerless Sugar Ray Robinson, had a gut feeling of foreboding.  He had a nightmare in which he killed Jimmy in the ninth round.  The contract had already been signed, sealed and delivered, so it was time for the fighters to deliver, and the promoters were restive as well as insistent.  They called in a Priest and then a Minister to advise and counsel Ray that it was but a dream, and he should awake to the reality of Greenbacks.  Ray, who was all but invincible at the time, was defending his welterweight title.
Jimmy who was only twenty two years old, was desperate to buy his Mother a house.  He took on Ray too soon, for a substantial payday.  And just as  Ray predicted, via his nightmare tragedy struck.  A massive Sugar Ray left hook in the ninth, poleaxed Jimmy and it killed him.  Heartbroken, Ray donated money from his next four purses to quietly, privately and with dignity, make sure that Jimmy`s dream came true. But at what a price!
An inflammatory remark at the weigh in before the third fight between Benny "Kid" Paret Vs Emile Griffith 111, in 1962, lit the slow burning fuse of resentful anger which led to tragedy.  Benny called Emile a maricon/faggot.  Emile, who in later years came out as bi-sexual, was mortified.  Back then things, especially life, could be hell on earth for a person who wasn`t hetrosexual.  Promoters even went to the lengths of presenting a photo of Emile wading in the sea, surrounded by a bevy of beautiful ladies.
Fate and fury combined to produce hell for leather in the twelfth round of their fight in Madison Square Garden.  Almost stopped in the sixth, Emile came back with a vengeance in that twelfth, to corner Benny and batter him helpless with twenty nine unanswered punches.  Referee Ruby Goldstein seemed transfixed. He was waiting for Benny to respond. Ruby who`d himself had a distinguished ring career before becoming a referee said: "You give a champion a chance to fight back."  Benny`s Manager Manuel Alfaro, insists: "I screamed for Ruby Goldstein to stop the fight, but he didn`t hear me."
Ruby who let his referee license lapse, then renewed it and was the third man in the ring, only one more time. The tragedy haunted him for the rest of his life, with nightmares and insomnia.
Benny died ten days after the KO, in the Roosevelt Hospital.  Emile had tried to visit him, but been turned away. He also suffered from nightmares for the rest of his life.   The fight should never ever have been allowed. Emile had KO`d Benny in the first fight, lost the rematch on a controversial slugfest split decision and then Benny had been KO`d by middleweight champion Gene Fulmer all in the space of less than a year before this final encounter.  Yet again the warning signs were there to see, but they were missed.
Fast forward to LA, in September 1980.  WBC bantamweight champion Lupe "El Grillo de Cuajimalpa" Pintor was defending his crown, against:  "The Merthyr Matchstick" Johnny Owen.  Lupe is built like a yearling bull, while it seemed that a light gust of wind wafting over a Welsh hillside would blow Johnny over the hills and far away.  In fact he ran between nine and twelve miles daily, which built up incredible stamina, but he remained rail thin.  He`d earned his opportunity by winning the British, Commonwealth and European titles. But there was a gulf of difference between that and crossing the Atlantic… for this.
The fight at the Grand Olympic Stadium started brightly for Johnny who went on the offensive.  But in the fifth he suffered a deep cut on the inside of his lower lip which jaggedly opened, and he was thereafter swallowing an increasing amount of blood. Lupe`s strength and power trumped Johnny`s stamina and bravery.  In the ninth Johnny  suffered the first knockdown of his career.  He withstood a torrid buffeting tenth round and was exhausted by the end of the eleventh. Referee Marty Denkin went to Johnny`s corner to stop the fight, but was assured Johnny was fit enough to come out for the twelfth.
He was knocked down yet again and somehow got up. Then… a massive shuddering right hook froze, stunned and dropped Johnny Owen, who was unconscious before he hit the canvass, and he never woke up again . Three brain surgeries, two bouts of pneumonia and seven weeks later Johnny died.  He passed away aged just twenty three.
In 2002 a statue of Johnny was unveiled in his home town of Merthyr Tydfil,  by Lupe Pintor.  In that same year, Johnny`s Father Dick was welcomed to Mexico by Lupe Pintor. The touching documentary they helped make together, won two BAFTAS, including Documentary of the year.
The neurosurgeon who operated on Johnny found he had a very thin skull. If this has been picked up early, he would never have been allowed to box.
Two years later, the fight between WBA lightweight champion Ray "Boom Boom" Mancini and Kim Deuk Koo in Cesar`s  Palace.  Obvious warning signs, as Kim was overweight and had to lose pounds in a hurry.
As the fight wore on and on, the Korean tired, slowed up  and got caught with some hellacious punches, finally being stopped in the twelfth and collapsing.  He slipped into a coma and died four days later.
A grief stricken Ray attended the funeral in South Korea.  Three months later Kim`s Mother committed suicide.  The referee Richard Green committed suicide in July 1983.
As so often, the World Boxing Council led the way, in reducing championship fights from fifteen to twelve rounds.  And only recently the WBC has made other stepping stone championship fights ten rounds instead of twelve.
Boxers who are the bravest of the brave are fighters, not warriors or gladiators, reliant on the thumb up or the thumbs down, which was an invention of Hollywood anyway. Gloves cover their hands, and they don`t carry shields, apart from in their mouths to protect their gums and teeth.
The skill of boxing is in the noble art of self defence, and a good bit of attack into the bargin.  Those who still believe that the glory should be accompanied by gory, should transport themselves back in time to watch Christians being thrown to the lions and torn limb from limb in the arena.  Barbarism at its bestial worst.
They would do well to read Wilfred Owen`s poem in English, with the Latin title:  Dulce et decorum est pro patria mori.
And here`s mine:
Years pass but memories last
It`s been years since you died,
But I remember you tonight,
Your will to live was strong,
And you put up such a fight,
In a tug of war with darkness,
Reaching out for hope and light,
With a hand both pale and slender,
And a grip so very slight.
You never won reprieve,
To defeat your tragic plight,
And those who mention God and fate,
Can  just get out of my sight.