The trunk of memories is still open …
By Mauricio Sulaiman
That noon on September 21, 2010. Ten years ago, there was a radiant sun beating down on the wide esplanade of the Mexican Olympic Committee.
One by one the guests arrived. The winners too. A few minutes later they would receive the "Joaquín Capilla" medal, in honor of that great diver considered the greatest athlete with the conquest of four medals in the Olympic Games for Mexico.
The golden letters that said "Mexican Olympic Committee" stood out embedded in the wooden wall of the auditorium and was the ideal background to reward Don José.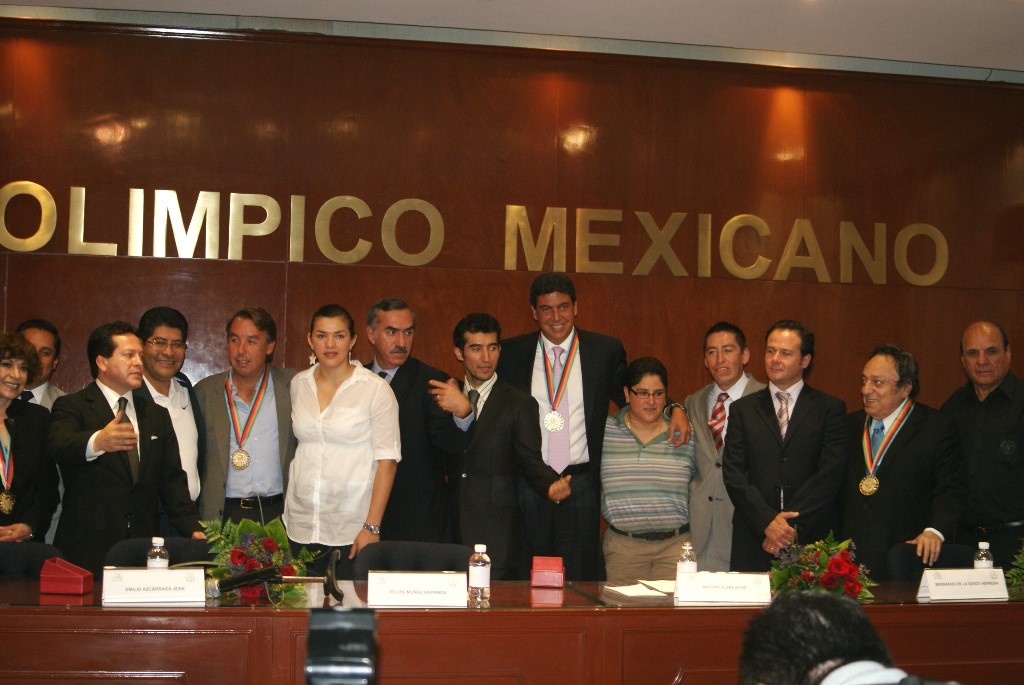 He always cared about the boxer's health and his tireless fight for human rights that never exhausted him, but was an essential part of his life.
The Mexican Association of Olympic Medalists, led by Daniel Aceves, chose different personalities to present this recognition for their work in Mexico and in sports.
The journalist Cristina Pacheco, along with her "Sea of Stories", Arturo Elías Ayub, with his support for our champions with the direction of the Telmex-Telcel Foundation, were awarded. Sharon Fastlich. Wife of the president of Televisa Emilio Azcárraga, who came to honor these greats.
Don José, smiling since his arrival, was surrounded by those men and women who have given glory to Mexico, by getting on the podium of the winners in Olympic games and several of them being privileged to listen to the Mexican National Anthem and continue with their gaze as the flag rose to the top, as if it were touching the sky.
It was the moment of the words of thanks:
Started by Doña Cristina "I am grateful for this distinction that bears the name of an exceptional diver. For me it is a pride to carry this medal. From culture to sport.
Arturo Elías Ayub said "This medal is great for me, which contains hours of work, professionalism and dedication of many years of work so that a Mexican has achieved four medals. It is an honor to receive this recognition from the diver who left this Olympic legacy for Mexico."

As a representative of Sharon Fastlich, Mr. Emilio Azcárraga commented "On behalf of my wife I thank you for this medal, she is excited to have obtained it for the memory of an athlete who put Mexico on top."

Everyone there, gathered behind the presidium table. Legendary glories of our sport and Olympic medalists, with stories and feats.

How can we not remember when Felipe "Tibio" Muñoz made Mexico resonate in the Olympic Pool, in Río Churubusco, with that touch that wore gold in the 200-meter chest in those unforgettable 1968 Games. This was the only gold medal in swimming for our country.
Another similar story with the late Soraya Jiménez. Unique gold medal in weightlifting, at the 2000 Sindney Olympic Games. All the recognition of Mexico for her defiant attitude to see crowned an anonymity that later became a sports legend. A monumental feat which has not been equaled or surpassed in 20 years in Mexico.
One more golden story. María del Rosario Espinosa became Olympic champion in Beijing 2008. Taekwondo has become in Mexico a discipline that has marked medals in the Mexican medal table. And so we could continue with the exploits of our athletes …
Don José received his medal from diver Jesús Mena, his friend and winner of the bronze medal in Seoul-88 on the ten-meter platform.

With pride he carried it on his chest, he showed it to everyone, with that frank smile, with that shone and that reflected with the light of the flashes of the cameras and television.

When speaking, my dad made it clear that this medal would remain engraved in his heart for the rest of his life, which he received with humility, honor and on behalf of all boxers.

He fought "Apartheid", he fought against racial discrimination and was always in search of the well-being of the boxers with the creation of rules that have helped make boxing a more humane and less risky sport.
Other medalists who were guests at the ceremony, who have engraved their names in the annals of history, who have framed it with triumphs in the hundred years of the Olympic Games were Daniel Aceves, Guillermo Pérez, Víctor Estrada and Fernando Platas, among others.
Our champions Humberto "Chiquita" González and Lupe Pintor accompanied Don José.
The photograph of the memory remained indelibly because there are some who are no longer with us, but will be in sports history forever, because their perseverance, discipline, courage and loyalty to Mexico left it recorded that noon.